Are you searching for clarity, meaning and purpose in your life? Do you ever ask yourself or wonder whether you are living your life to the fullest? If your answer is yes, then you should learn about the importance of having a Life Purpose Statement.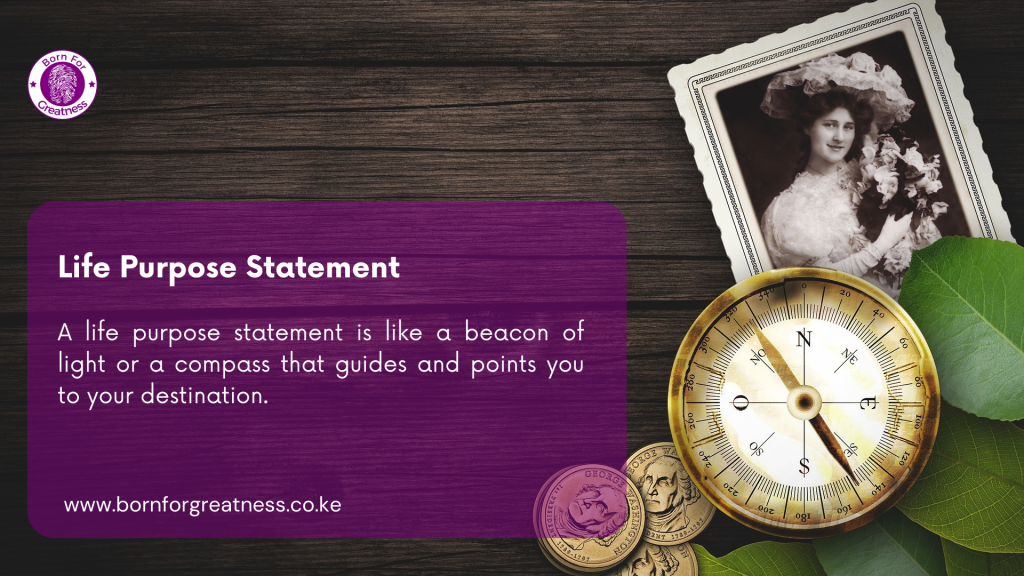 What is a Life Purpose Statement?
A life purpose statement is like a beacon of light or a compass that guides you to your destination. Having one enables you to focus on the things that really matter to you. Without one, you feel lost, hopeless or stuck in a rut.
Let me share my personal story to illustrate the importance of having a life purpose statement.
I deeply care about social justice issues that affect incarcerated male youth. For the past 9 years or so, I have been breaking boys out of prison. Through Lifesong Kenya, a nonprofit that I founded in 2013, male youth take full responsibility and make amends for their harmful actions.
They also find an avenue where they can heal and reconcile with their families and the people they have wronged and hurt. It is work that I really love, enjoy and find fulfilment from. However, it is one of the most difficult things that I have ever done in my life.
First, many of the boys that I meet in prison are looking for a father-figure and an adult male role model. Because I grew up without a father-figure, I often feel inadequate and unqualified.  
Secondly, many people consider boys in prison as perpetrators who deserve punishment. This being so, we often struggle with raising funds and finding support for our organization.
Thirdly, my failure to find support used to make me doubt my life purpose. As a result, I considered every achievement I had made as failure.
This is despite the fact that our work has enabled young men to gain skills in prison as well as get reconciled with their families, the police and the people they have wronged. But after joining Co-Active Training Institute, my attitude towards my life purpose changed.
The Importance of Having a Life Purpose Statement
Joining CTI to learn about coaching is one of the best things that has happened in my life. I count it as a huge blessing and fresh breath of air in my life. Through it, I was able to find deep and real meaning in things that used to make no sense to me.
The coaching that I received – still receive – empowered me to discover and write my life purpose statement. The moment I did that, my attitude towards my life, purpose and the achievements that I have made changed.
Writing my life purpose statement brought new meaning, a sense of worth and value to my work with boys in prison. This is treasure that I would like to share with you. Join me in a discovery session and learn how to create a powerful statement that'll bring new meaning to your life purpose.
Through our work together, you'll learn the following:-
How to clarify what's important to you
Gaining continual drive and purpose
Living a meaningful life
Succeeding on your own terms
Conviction that you're on the right path
Learn more about us and get in touch using the form below today and let's craft your Life Purpose Statement.